Lydia Wingert Fleager, Realtor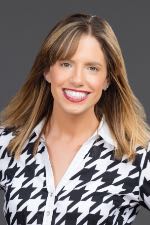 lydiawingert@yahoo.com


717-715-5016
Lydia Wingert Fleager, some might say, was born and raised into real estate. As the youngest of three children, she often accompanied her mom to the office, to settlements and to showings. Fast forward 23 years, and Lydia is now a licensed agent.
Lydia is a graduate of Warwick High School, and spent the first few years after graduation running a horseback riding lesson program. Since the age of 5, Lydia has had a passion for horses. She is the owner of two of her own and enjoys showing them in Dressage rings on the East coast. In addition to showing and riding horses, she enjoys hiking, traveling, and spending time with her family, especially husband, Drew Fleager. Lydia and Drew were married on May 12, 2018.
Lydia looks at real estate in much the same way she pairs a horse up with a rider. She knows the importance of making the perfect match. Same goes for real estate. She cares about her buyers and wants to make sure they find the perfect house. When it comes to sellers, she works hard to find the buyer best suited for the property. She was brought up understanding the importance of honesty, integrity and respect and she works hard to make sure her business will always be built on those characteristics.